NAZI SWASTIKA COMPLEX AT CORONADO NAVAL BASE SENDS THE WORLD A MESSAGE

July 13, 2006

Dave vonKleist
P.O. Box 85
Versailles, MO 65084
(573) 378-6049

The Power Hour radio program announced today they are in receipt of information that a building complex on US Naval Base Coronado, outside San Diego, CA, forms the image of a Nazi Swastika. A simple search at Google Earth reveals a large complex of four buildings that are indeed arranged to re-create the Swastika, the symbol of Adolf Hitler's Third Reich.
Symbolism has been used throughout history to communicate intent and allegiance to those aware of their meanings. In a world of symbolism, secret societies, and shadow organizations that influence domestic and foreign policy, what kind of message is this sending to the rest of the world? What is the name of this building complex and who was responsible for approving the design?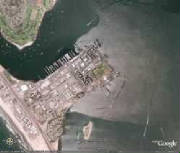 Coronado Naval Base (Aerial View)


Adolf Hitler promoted a "New World Order" and planned to implement it as his Third Reich came to power. Is this the same "New World Order" that George H. Bush Sr., Gary Hart and Bill Clinton speak of? What possible reason could there be for a building to have been constructed on a military base with this horrifying reminder of hate and genocide?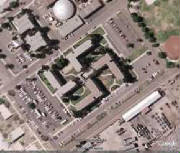 These photographs, now being seen worldwide, are raising very serious questions as to the intent and meaning of this message. Given the political climate in the US, some may see the construction of a four story Swastika as an act of "Hate Speech".

The Power Hour has sent certified letters to the Commanding Officer of the base, Secretary of the Navy, Secretary of Defense and numerous International Jewish organizations requesting a response and explanation as to how this horrifying reminder of murder and genocide can be tolerated.

Copyright © 2005-2009 by Rev. Dr. Ricardo E. Nuñez. All Rights Reserved.

FAIR USE NOTICE: This site contains copyrighted material the use of which has not always been specifically authorized by the copyright owner. We are making such material available in our efforts to advance understanding of environmental, political, human rights, economic, democracy, scientific, and social justice issues, etc. We believe this constitutes a 'fair use' of any such copyrighted material as provided for in section 107 of the US Copyright Law. In accordance with Title 17 U.S.C. Section 107, the material on this site is distributed without profit to those who have expressed a prior interest in receiving the included information for research and educational purposes. For more information go to: http://www.law.cornell.edu/uscode/17/107.shtml. If you wish to use copyrighted material from this site for purposes of your own that go beyond 'fair use', you must obtain permission from the copyright owner.