July 31, 2006
CASTRO RELINQUISHES POWER BEFORE SURGERY
SOLDIERS FROM 2 KOREAS EXCHANGE FIRE
RADIO SAYS IRAN WILL REJECT U.N. ULTIMATUM
PEACEKEEPING MISSION IN LEBANON EXTENDED
IRAQI GUNMEN SEIZE 26 IN DAYLIGHT RAID
ISRAELI PM SAYS NO CEASE-FIRE COMING NOW
ISRAEL MOVES TO SUSPEND AIR ATTACKS FOR 2 DAYS AFTER STRIKE IN LEBANESE VILLAGE KILLS 57 CIVILIANS
LEBANON ASKS RICE NOT TO VISIT LEBANON After Israelis Airstrike Kills More than 50 Lebanese Civilians
July 29, 2006
DAKOTAS AT 'EPICENTER' OF U.S. DROUGHT
July 28, 2006
6 SHOT, 1 FATALLY AT SEATTLE JEWISH CENTER Muslim man claimed to be angry with Israel
COLO. KILLER CLAIMS CREATIVITY IN SLAYINGS May be responsible for 49 murders
ANNAN MULLS PEACEKEEPING CONTRIBUTORS
RICE TO RETURN TO MIDEAST TO WORK ON TRUCE
EUROPE SWELTERS AS HEAT WAVE CONTINUES
HEZBOLLAH FIRES NEW ROCKETS INTO ISRAEL
HEZBOLLAH ROCKET HITS ISRAELI HOSPITAL
IN CALIFORNIA, HEAT IS BLAMED FOR 100 DEATHS Over 16,000 cattle have died
July 27, 2006
FEMA LIFTS REPORTER BAN Katrina victims in trailer parks were barred from talking with media without fed agent
20 MEMBERS OF SOMALIA'S PARLIAMENT RESIGN
U.N. SAYS 154 DEAD IN NORTH KOREAN FLOODS
6.1 QUAKE HITS INDONESIA'S SUMATRA ISLAND
BUSH CITES IRAN'S ROLE IN LEBANON CONFLICT
AL-QAIDA'S NO. 2 LEADER THREATENS ATTACKS
UN OBSERVER REPORTS HEZBOLLAH USES UN POSTS AS SHIELDS
July 26, 2006
ANOTHER U.S. CITY OUTLAWS FEEDING HOMELESS PEOPLE
UN HITS IMPASSE ON TEXT CRITICIZING ISRAELI ATTACK
FAMILIES OF CAPTURED ISRAELI SOLDIERS ASK FRANCE FOR HELP
ISRAEL SEEKS 1.2-MILE-WIDE 'SECURITY ZONE'
NO AGREEMENT ON MIDEAST CEASE-FIRE
IRANIAN PRESIDENT MAHMOUD AHMADINJAD HAS CALLED FOR A CEASE-FIRE IN LEBANON AND TALKS WITHOUT CONDITIONS
HEZBOLLAH FIGHTERS KILL 9 ISRAELI SOLDIERS
July 25, 2006
40 DIE FROM HEAT WAVE IN FRANCE
IRAN'S PRESIDENT WARNS THAT THE USE OF FORCE IN LEBANON COULD TRIGGER "A HURRICANE."
MORE THAN A DOZEN ROCKETS HIT NEAR HAIFA
THREE U.N. OBSERVERS KILLED IN LEBANON
HEZBOLLAH: ISRAELI ONSLAUGHT A SURPRISE
July 24, 2006
SOMALI MILITANT VOWS TO PRODUCE 'CORPSES'
U.N. EXEC BLAMES HEZBOLLAH FOR DEATHS
ISRAELI FORCES PUSH DEEPER INTO LEBANON
HEAT PROMPTS POWER EMERGENCY IN CALIFORNIA
BUSH ORDERS CHOPPERS, SHIPS OF AID TO LEBANON
SAUDIS ASK BUSH TO INTERVENE IN MIDEAST
INDONESIAN QUAKE TRIGGERS TSUNAMI FEARS
ISRAEL WANTS 'NEW REALITY' IN LEBANON Defense Minister Suggests NATO Patrol Border To Fend Off Hezbollah
U.S. SPEEDS UP BOMB DELIVERY FOR THE ISRAELIS
NO END IN SIGHT FOR QUEENS, N.Y., BLACKOUT
July 21, 2006
RICE REJECTS "FALSE PROMISE" OF QUICK FIX IN MIDEAST
GERMANY SAYS IRANIAN LETTER ATTACKS ISRAEL
CHINA WARNS US NOT TO SELL FIGHTER JETS TO TAIWAN
SOMALI MILITANT URGES HOLY WAR ON ETHIOPIA
MORE ROCKETS STRIKE ISRAELI CITY OF HAIFA
CHINA'S DEATH TOLL FROM STORM HITS 482
ISRAEL MASSING MILITARY ON LEBANON BORDER
UNITED STATES TO STUDY U.N. REPORT AS RICE PLANS MIDEAST TRIP
July 20, 2006
U.S. GENERAL SAYS AN ESTIMATED 6,000 AMERICANS TO BE EVACUATED BY WEEKEND
TERROR SUSPECTS INDICTED IN ATLANTA
FBI EYES HIZBOLLAH IN US AS TENSIONS WITH IRAN RISE
POWER OUTAGE SENDS GUARD TO ST. LOUIS
RESCUE WORKERS LOOK FOR TSUNAMI SURVIVORS
ETHIOPIA ENTERS SOMALIA TO BACK GOVERNMENT
2 KIDNAPPED MISSIONARIES FREED IN HAITI
ISRAEL HINTS AT FULL-SCALE LEBANON ATTACK
HOUSE OVERWHELMINGLY BACKS ISRAEL IN VOTE
July 19, 2006
U.S. STANCE AGAINST VENEZUELA HAS DANGERS
NORTH KOREA FACES NEW FOOD CRISIS
NIGERIAN BUILDING COLLAPSE KILLS 20
LEBANON DEMANDS COMPENSATION FROM ISRAEL
ETHIOPIA PREPARED TO INVADE SOMALIA
BUSH USES FIRST-EVER VETO TO KILL STEM CELL BILL
2 YOUNG BOYS KILLED BY MISSILE IN NAZARETH
July 18, 2006
ISRAEL MAY SEND GROUND TROOPS INTO LEBANON
DOZENS INJURED AFTER CRUISE SHIP TILTS
CHIPS WITH MEDICAL RECORDS TO BE IMPLANTED IN 280 PATIENTS
DOCTOR, NURSES ARRESTED FOR KATRINA MERCY KILLINGS
INDONESIA DIDN'T RELAY TSUNAMI WARNINGS
DEATH TOLL IN INDONESIAN TSUNAMI HITS 341
AMERICANS CAN'T ESCAPE SWELTERING HEAT
BRITAIN SIZZLES IN SOARING TEMPERATURES
BROILING TEMPS CONTINUE; AT LEAST 6 DIE
ECUADOR VOLCANO BURIES FARMS IN ASH AND READY TO BOIL OVER
AN EARTHQUAKE EVERY TWO WEEKS? IT'S HAPPENING NEAR CLEVELAND
TSUNAMI THREAT TO HAWAII AND WEST COAST UNDERESTIMATED
CAUSE SOUGHT AS MARSHES TURN INTO BARREN FLATS
July 17, 2006
ISRAEL: LONG-RANGE IRANIAN MISSILE DESTROYED
MILITIA REBUKED BY SOME ARAB COUNTRIES
G-8 LEADERS CONSIDER MIDEAST PEACEKEEPERS
July 16, 2006
THANK YOU ISRAEL Established to promote a lasting peace between Lebanon, Israel, and Syria.
NORTH REJECTS "BRIGANDISH" UN CALL TO HALT ITS MISSILE LAUNCHES
N.KOREA REJECTS U.N.'S LIMITED SANCTIONS
SUDAN SHOULD ACCEPT MUSLIM PEACEKEEPERS: CLINTON
BUSH SAYS ISRAEL HAS 'EVERY RIGHT' TO DEFEND ITSELF
LEBANON: ISRAELI STRIKE ON CITY KILLS 9
HEZBOLLAH FIRES ROCKET BARRAGE AT ISRAEL
G-8 LEADERS DEMAND HALT TO MIDEAST ATTACKS
July 14, 2006
LEBANON SEEKS WORLD HELP TO END CONFLICT
SOMALIA INTERIM GOVERNMENT BOYCOTTS TALKS
SECRET SERVICE FINDS GRENADE DURING SEARCH OF MIAMI APARTMENT
HEZBOLLAH DRONE BATTERS ISRAELI WARSHIP
MILITANTS OPEN BORDER BETWEEN EGYPT, GAZA
HEZBOLLAH: WE'RE READY FOR 'OPEN WAR'
100 SICK AS GAS LEAKS INTO VA. DORM
July 13, 2006
NORTH KOREA STORMS OUT OF MEETING WITH SOUTH
RIVALS SURRENDER WEAPONS IN SOMALIA
ISRAELI JETS HIT BEIRUT-DAMASCUS HIGHWAY
ISRAELIS TAKE COVER FROM MILITANT ROCKETS
U.S. VETOES U.N. CONDEMNATION OF ISRAEL
HUNDREDS RIOT IN CHINA, ATTACK POLICE, SMASH CARS
July 12, 2006
DARFUR SAID FACING NEW WAVE OF KILLINGS
PUTIN'S CHENEY JAB UNDERSCORES G-8 TENSION
FRUSTRATED WORLD POWERS SEND IRAN TO U.N.
ISRAEL ATTACKS LEBANON AFTER TROOPS SEIZED
July 11, 2006
SOMALI ISLAMISTS VOW TO CRUSH RESISTANCE AS LAST WARLORD FLEES
TEEN GETS 45 YEARS FOR DISMEMBERING CLASSMATE
U.S. WILL GIVE DETAINEES AT GUANTANAMO AND ALL OVER THE WORLD GENEVA RIGHTS
MYSTERY SURROUNDS CHECHEN WARLORD'S DEATH
163 KILLED IN INDIAN TRAIN BLASTS
July 10, 2006
BELGIAN PARLIAMENT CONSIDERS CRIMINALIZING PROSELYTIZING
BRITAIN TO SEND MORE TROOPS TO AFGHANISTAN
FIGHTING FLARES IN MOGADISHU, AT LEAST 60 DEAD
MEXICO MOVING TOWARD TWO-PARTY SYSTEM
JAPAN CONSIDERS PRE-EMPTIVE STRIKE AGAINST NORTH KOREA
OLMERT SAYS NO DEAL WITH 'BLOODY' HAMAS
DECISION TO BE ANNOUNCED IN BRITISH SHOOTING OF UNARMED BRAZILIAN MAN
July 7, 2006
EPISCOPAL CHURCH AND PRESBYTERIAN CHURCH IN CONFLICT OVER ALLOWING HOMOSEXUAL MARRIAGE AND GAY BISHOPS
IRAN PRESIDENT CRITICIZES ISRAELI OFFENSIVE
PRAY OR DIE, SOMALI SHEIKH TELLS MUSLIMS
SOMALIA'S U.N.-BACKED GOVERNMENT STRUGGLES
U.S. MILITARY DEATHS IN AFGHANISTAN
ISRAEL SUGGESTS RELEASE IF SOLDIER FREED
JAPAN PUSHES FOR SANCTIONS ON N. KOREA
FBI DISRUPTS NEW YORK TRANSPORTATION PLOT
July 6, 2006
MAN RAIDED BY FBI, ATF, CANADIAN LAW ENFORCEMENT AFTER HANDING OUT 'SUBVERSIVE' ALEX JONES MATERIAL
ISRAELI TROOPS PUSH FARTHER INTO GAZA TO HALT ROCKETS
CIA AND U.S. MILITARY OPERATIVES SOUGHT IN KIDNAPPING OF EGYPTIAN IMAM
IRAN DEFIES CALLS FOR EARLY NUCLEAR REPLY
MEXICO'S CALDERON HAS INSURMOUNTABLE LEAD
July 5, 2006
PUTIN SEEKS RIGHT TO SEND RUSSIAN ANTI-TERROR SPECIAL FORCES ANYWHERE IN WORLD
TERRORIST FILE FOUND IN BRITISH DITCH
GEORGIAN PRESIDENT'S POPULARITY PLUNGES
TWO SOMALIS KILLED FOR WATCHING WORLD CUP
VIDEO SHOWS ARABS FIGHTING IN SOMALIA
CHAVEZ HOSTS 6-NATION TRADE SUMMIT
VENEZUELA MILITARY DISPLAYS NEW WEAPONRY
MEXICO BEGINS MASSIVE VOTE RECOUNT
ISRAEL EXPANDS GAZA OFFENSIVE AFTER ROCKET FIRE
SOUTH KOREA MEDIA: MORE NORTH KOREA ROCKETS READY
RUSSIA, CHINA RESIST NORTH KOREAN SANCTIONS
NORTH KOREA LAUNCHES 7th (11th?) MISSILE.
RUSSIAN PRESS REPORTS NORTH KOREA LAUNCHED 10 MISSILES
U.N. CONSIDERS CONDEMNATION OF KOREAN MISSILE LAUNCH
PALESTINIAN ROCKET REACHES 6 MILES INTO ISRAEL
IRAN POSTPONES NUCLEAR DISCUSSIONS WITH E.U.
KENNETH LAY DIES OF HEART ATTACK AT AGE 64
July 4, 2006
U.S. CONDEMNS NORTH KOREA FOR MISSILE LAUNCHES
MISSILES FIRED BY NORTH KOREA; CLAIMS TESTING
U.N. HOLDS TALKS WITH SOMALIAN ISLAMISTS
July 3, 2006
NORTH KOREA VOWS TO ANSWER U.S. STRIKE
FRANCE SEES ISLAM RISE, CHRISTIANITY FALTER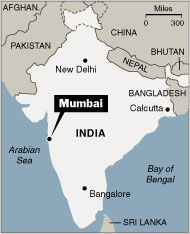 India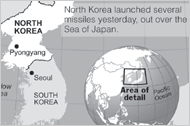 North Korea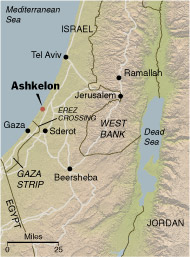 Middle East