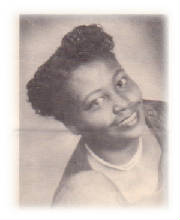 This page is dedicated to Ms. Hurlena "Lena" Hunter, mother of our Pastor, Dr. Ricardo E. Nunez.
It was Ms. Lena's aspiration that no child go without. She lovingly provided hot meals, clothes and affection to any child who came to her door. She was a mother and friend to the neighborhood and to those in her native Panama.
Her love and attention are dearly missed by her family and friends, but her dream lives on.
The Church of Philadelphia is proud to carry on the tradition that Ms. Lena started over fifty years ago. It is our goal to provide meals and clothing to anyone in need.
Please join us as we put God's word into action.
Matthew 25:35-40
35 For I was an hungred, and ye gave me meat: I was thirsty, and ye gave me drink: I was a stranger, and ye took me in: 36 Naked, and ye clothed me: I was sick, and ye visited me: I was in prison, and ye came unto me. 37 Then shall the righteous answer him, saying, Lord, when saw we thee an hungred, and fed thee? or thirsty, and gave thee drink? 38 When saw we thee a stranger, and took thee in? or naked, and clothed thee? 39 Or when saw we thee sick, or in prison, and came unto thee? 40 And the King shall answer and say unto them, Verily I say unto you, Inasmuch as ye have done it unto one of the least of these my brethren, ye have done it unto me.
John 21:15-19
15 So when they had dined, Jesus saith to Simon Peter, Simon, son of Jonas, lovest thou me more than these? He saith unto him, Yea, Lord; thou knowest that I love thee. He saith unto him, Feed my lambs. 16 He saith to him again the second time, Simon, son of Jonas, lovest thou me? He saith unto him, Yea, Lord; thou knowest that I love thee. He saith unto him, Feed my sheep.
James 2:14-16
14 What doth it profit, my brethren, though a man say he hath faith, and have not works? can faith save him? 15 If a brother or sister be naked, and destitute of daily food, 16 And one of you say unto them, Depart in peace, be ye warmed and filled; notwithstanding ye give them not those things which are needful to the body; what doth it profit?
What Manner of Man Are You?
If You Love Me, Feed My Sheep
Please turn with me to James 1:22-25, where the word tells us:
But be ye doers of the word, and not hearers only, deceiving your own selves. For if any be a hearer of the word, and not a doer, he is like unto a man beholding his natural face in a glass: For he beholdeth himself, and goeth his way, and straightway forgetteth what manner of man he was. But whoso looketh into the perfect law of liberty, and continueth therein, he being not a forgetful hearer, but a doer of the work, this man shall be blessed in his deed.
The sermon topic for our reading today is, "What Manner of Man Are You?"
In these frightful times in which we live, we have seen and heard stories of bravery and heroism that fill our hearts with pride. We think to ourselves, 'He's a good man', as we see the media describing those who lost their lives in terrorist attacks or those who risk their lives in military actions. But what exactly makes a man, a good man? What attributes are revealed in the man who accepts the calling to pastor and to preach to the Lord's flock? As pastors, we are held accountable for the souls we reach, as well as those we should have reached. As a pastor, when you stand before the Lord to bear witness to your works, what will you offer? What manner of man will you be?
The word clearly tells us that our efforts are blessed when we apply God's word to our lives. Unfortunately, it is becoming increasingly difficult to find leaders who "practice what they preach". Pastors across the country continue to preach that Christians will be "raptured" away and never have to face any of the horrors of the Tribulation. If they didn't realize it before the events of September 11, they must know by now that this doctrine is false. But they insist on pushing this lie in an effort to increase their coffers. They twist and blatantly misinterpret the word to create a false sense of peace and security. Then they spend the lion's share of their time fund-raising, and seeking to reason with Muslims and Catholics to reveal an imaginary connection between the doctrines. These TV evangelists produce telethons and fund-raising events, encouraging their viewers to "step out on faith" and write a check on non-existent funds. In return, they'll send you a worthless trinket, pray over your stacks of prayer requests and send healing vibes through the TV camera. Somehow, your act of committing this crime is proof of your belief that God will bless your effort, no matter how misguided.
We can't expect God to bless a lie or help us kite a check just because we're trying to look holy. As pastors and leaders, we must not only give the perception of holiness, but we must seek to actually be holy, just as God in Christ is holy. We can't just preach God's word as if it were a fairy tale, with giants, dragons and kings: a bedtime story that has nothing to do with our lives.
When we study God's word and then preach prosperity and comfort sermons for the sake of money, we forget what manner of man we are. When we memorize scripture for the sake of appearing holy and then teach a false doctrine for the sake of filling the pews, we forget what manner of man we are. When we read our bibles daily and then covet our pulpits, refusing to train and raise up new ministers, we forget what manner of man we are. When we can quote chapter and verse from our bibles, but then leave our flocks unattended while we travel week after week to preach at yet another revival, we forget what manner of man we are. When we preach that God is love, but have congregants that are going hungry or can't pay their bills, we forget what manner of man we are. And we forget what manner of man Jesus was. When you look into the mirror, what do you see? Do you see a reflection of a holy God or do you see a reflection of a god re-created to a more comfortable image? Do you see a reflection of God at all? Maybe you just see yourself trying to be God.
We find it more important to focus on material possessions as a sign of faith, but we fail to put on the full armor of God. We, as a church, have more faith in Mercedes and Armani than we do in the word of God. The word warns us that all these things will pass away, but the word of God will never pass away. We can quote scripture as if King James himself, but have no concept of the application of these words in our lives. We seek to build cathedrals and tabernacles to impress the public, but we overlook the hungry and jobless in our own congregations. Not only do we overlook them, we don't even know them. The doctrine of the modern church seems to be to preach comfort sermons, teach that wealth is a sign of faith, and try to appear as holy as you can. Pastors are pressured, whether from within or from the church hierarchy to increase the population of the church at all costs. We witness again and again, pastors falling away from teaching the word that God gave them, for fear that the two-edged sword will cut so deep that the congregants will leave and take their wallets with them.
But the word tells us that the Lord has higher expectations of us. We can look to the founding father of Christianity for a better idea of what to expect. We read in 2 Peter 3:10-12:
But the day of the Lord will come as a thief in the night; in the which the heavens shall pass away with a great noise, and the elements shall melt with fervent heat, the earth also and the works that are therein shall be burned up. Seeing then that all these things shall be dissolved, what manner of persons ought ye to be in all holy conversation and godliness, Looking for and hasting unto the coming of the day of God, wherein the heavens being on fire shall be dissolved, and the elements shall melt with fervent heat?
As a country, we have already gotten a taste of what the 'heavens being on fire and the elements melting with fervent heat' is all about. And we, as Christians, feel in our spirits that we are the generation which will witness the return of our Lord. But as pastors, we preach as if Jesus is never going to return. One look at the Christian media offerings on television and radio reveals that the accumulation of financial and material gain is of primary importance, followed closely by that all-important "spiritual break-through". In churches around America, pastors spend more time courting politics and prime television time than they do looking after their flocks. We are called to worship God and teach His word as a church. But more and more, we see huge churches under the name "praise center or family outreach". These days it seems almost an embarrassment to be called a church. But maybe that's because there's so many other things going on inside these "centers" instead of worshiping God.
Jesus said that the greatest commandment is that we love the Lord our God with all our hearts, minds, and souls. And the second is like it: that we love our neighbors as ourselves. How can we, as shepherds, say we love with a holy love, but don't know half the people in our church or their situations. How can we, as the head of our household say we love with a holy love, but not spend time with our wife and children? As shepherds, leaders and men we are called to protect, train and rear our flocks, be them congregants or families. We read in John 21:15-17:
So when they had dined, Jesus saith to Simon Peter, Simon, son of Jonas, lovest thou me more than these? He saith unto him, Yea, Lord; thou knowest that I love thee. He saith unto him, Feed my lambs. He saith to him again the second time, Simon, son of Jonas, lovest thou me? He saith unto him, Yea, Lord; thou knowest that I love thee. He saith unto him, Feed my sheep. He saith unto him the third time, Simon, son of Jonas, lovest thou me? Peter was grieved because he said unto him the third time, Lovest thou me? And he said unto him, Lord, thou knowest all things; thou knowest that I love thee. Jesus saith unto him, Feed my sheep.
I would that you would allow me to pose a question. There is little doubt in my mind that any of you reading these words would answer 'No' if was put to you, "Do you love Jesus Christ? And if it were put to you three times, "Do you love Jesus Christ?" You would answer yes each time. But if Jesus Christ reviewed your actions, would He be able to see that you loved Him? And if the question put to you was, "Feed my sheep?" would you be able to answer yes? This question is not only asked to the pastor, but to head of the household. Are you feeding your family the word of God? Are you providing a protective hedge around your family with prayer and teaching. Lovest thou me? Then feed my Sheep. These words were spoken by Jesus after revealing himself to his disciples after his resurrection. Jesus asked this question of Peter three times, and each time Peter answered Yea, Lord. Peter, known as the founding father of Christianity then went on to preach and teach throughout the known world.
But today, we must ask our leaders and heads of household to look inward and introspectively ask themselves, 'Lovest thou me?' If we love the Lord, as pastors, teachers and leaders, we must seek to fulfill his desire and will. But are we feeding His sheep? Or more importantly, what are we feeding his sheep? Can we honestly answer: Are we feeding His sheep or are we feeding ourselves?
The first time Jesus asked Peter, 'Lovest thou me; feed my lambs'. This was an indication of the newness and immaturity of this newly founded Christian doctrine. As a leader, Peter would be required to feed the new converts as a shepherd would feed a lamb, with the easily palatable milk of the word. But with each successive response, Jesus showed with the artistry of his words that the babe in Christ should begin to mature and develop, and not only desire, but be led to graze in the green grass of God's word.
When we look at the duties of the shepherd, we see someone who takes on the responsibilities and burdens of his flock. He carefully seeks out a pasture that is lush and green, but also one that is in a well-protected valley. We see the shepherd standing up high on the hillside so that he may watch the flock and protect it from predators roaming to and fro seeking whom they may devour. We do not see him spending his day with another shepherd's flock, nor do we see him down in the valley grazing with the sheep. The shepherd is mindful of which pastures his sheep spend time grazing in. If another shepherd and his flock are nearby, a good shepherd is aware of allowing his flock to co-mingle with those other sheep. And if one sheep wanders off, he risks all to find it.
But pastors of today, in an attempt to gain notoriety, sometimes forget to lead their flocks. Instead we find today's pastor leaving the flock unattended as he travels the country garnering popularity votes and increasing his income. We see today's shepherd developing ministries that are pastor-centered, instead of God-centered. And what happens to the flock when these self-involved ministries move to another church? But Ezekiel 33:30-33, 34:1-10 tells another story:
Also, thou son of man, the children of thy people still are talking against thee by the walls and in the doors of the houses, and speak one to another, every one to his brother, saying, Come, I pray you, and hear what is the word that cometh forth from the LORD. And they come unto thee as the people cometh, and they sit before thee as my people, and they hear thy words, but they will not do them: for with their mouth they shew much love, but their heart goeth after their covetousness. And, lo, thou art unto them as a very lovely song of one that hath a pleasant voice, and can play well on an instrument: for they hear thy words, but they do them not. And when this cometh to pass, (lo, it will come,) then shall they know that a prophet hath been among them. And the word of the LORD came unto me, saying, Son of man, prophesy against the shepherds of Israel, prophesy, and say unto them, Thus saith the Lord GOD unto the shepherds; Woe be to the shepherds of Israel that do feed themselves! should not the shepherds feed the flocks? Ye eat the fat, and ye clothe you with the wool, ye kill them that are fed: but ye feed not the flock. The diseased have ye not strengthened, neither have ye healed that which was sick, neither have ye bound up that which was broken, neither have ye brought again that which was driven away, neither have ye sought that which was lost; but with force and with cruelty have ye ruled them. And they were scattered, because there is no shepherd: and they became meat to all the beasts of the field, when they were scattered. My sheep wandered through all the mountains, and upon every high hill: yea, my flock was scattered upon all the face of the earth, and none did search or seek after them. Therefore, ye shepherds, hear the word of the LORD; As I live, saith the Lord GOD, surely because my flock became a prey, and my flock became meat to every beast of the field, because there was no shepherd, neither did my shepherds search for my flock, but the shepherds fed themselves, and fed not my flock; Therefore, O ye shepherds, hear the word of the LORD; Thus saith the Lord GOD; Behold, I am against the shepherds; and I will require my flock at their hand, and cause them to cease from feeding the flock; neither shall the shepherds feed themselves any more; for I will deliver my flock from their mouth, that they may not be meat for them.
We see today's shepherd teaching methods of acquiring wealth, and equating faith with finances. Today's flocks are being taught a false doctrine and a fake love. And no one cares if your refrigerator is empty or your mortgage is overdue. Just as long as the pastor can drive the newest luxury vehicle and wear the latest designer ensemble while he's visiting every church but his own. If the pastor looks prosperous, then the flock appears to be faithful. 1 Corinthians 13 says it best:
Though I speak with the tongues of men and of angels, and have not charity, I am become as sounding brass, or a tinkling cymbal. And though I have the gift of prophecy, and understand all mysteries, and all knowledge; and though I have all faith, so that I could remove mountains, and have not charity, I am nothing. And though I bestow all my goods to feed the poor, and though I give my body to be burned, and have not charity, it profiteth me nothing. Charity suffereth long, and is kind; charity envieth not; charity vaunteth not itself, is not puffed up, Doth not behave itself unseemly, seeketh not her own, is not easily provoked, thinketh no evil; Rejoiceth not in iniquity, but rejoiceth in the truth; Beareth all things, believeth all things, hopeth all things, endureth all things. Charity never faileth: but whether there be prophecies, they shall fail; whether there be tongues, they shall cease; whether there be knowledge, it shall vanish away. For we know in part, and we prophesy in part. But when that which is perfect is come, then that which is in part shall be done away. When I was a child, I spake as a child, I understood as a child, I thought as a child: but when I became a man, I put away childish things. For now we see through a glass, darkly; but then face to face: now I know in part; but then shall I know even as also I am known. And now abideth faith, hope, charity, these three; but the greatest of these is charity.
The word reveals that we are expected to manifest the gifts of the Holy Spirit by the way we show love, whether it be towards our flock or towards our family. As Christians, we are expected to grow and mature. First, being weaned as lambs on the milk of the word and later as we begin to develop and graze more substantially as mature sheep. As a child, we believe as a child. But as Christians we are called to grow. As such, we put off childish things and fables and put on the whole armor of God. Just as shepherds are to raise sheep, so should pastors tend their flock and develop them into mature Christians. Christians, who are able to stand against the wolves in sheep's clothing who prey on the flock.
In the Eerdman's Bible Dictionary, the Hebrew word for sheep, S'on, and the Greek, Probaton both define a gentle and docile animal, largely defenseless and in need of constant supervision. Unlike goats, which will eat anything, anywhere, sheep prefer flat or rolling grazing grounds. Sheep provide most of the necessities of life: milk, meat, hides and wool. The helplessness and utter dependence of the sheep on the shepherd underlie the depiction of the people of God as a flock under the charge of God.
It is interesting to note that Jesus called us lambs and sheep. Out of all the animals in creation, He chose the most docile and vulnerable. Without the protection of the shepherd, a sheep is open to every danger. As the lamb grows and develops under one shepherd, he learns that shepherd's voice. That is why the shepherd is mindful of allowing just anyone to tend his flock. Historically, the sheep was bred for sacrifice. The first born lamb of the season was sacrificed on the altar. And the sheep is used for his meat and his wool. In every aspect, the sheep is a sacrificial animal. This is why the Father chose to call our savior the Lamb of God. Sheep are unable to protect themselves in any way, except that the shepherd be watchful. And without the whole armor of God, we too, are unable to protect ourselves against the wiles of Satan. We read in Matthew 25:31-46:
When the Son of man shall come in his glory, and all the holy angels with him, then shall he sit upon the throne of his glory: And before him shall be gathered all nations: and he shall separate them one from another, as a shepherd divideth his sheep from the goats: And he shall set the sheep on his right hand, but the goats on the left. Then shall the King say unto them on his right hand, Come, ye blessed of my Father, inherit the kingdom prepared for you from the foundation of the world: For I was an hungred, and ye gave me meat: I was thirsty, and ye gave me drink: I was a stranger, and ye took me in: Naked, and ye clothed me: I was sick, and ye visited me: I was in prison, and ye came unto me. Then shall the righteous answer him, saying, Lord, when saw we thee an hungred, and fed thee? or thirsty, and gave thee drink? When saw we thee a stranger, and took thee in? or naked, and clothed thee? Or when saw we thee sick, or in prison, and came unto thee? And the King shall answer and say unto them, Verily I say unto you, Inasmuch as ye have done it unto one of the least of these my brethren, ye have done it unto me. Then shall he say also unto them on the left hand, Depart from me, ye cursed, into everlasting fire, prepared for the devil and his angels: For I was an hungred, and ye gave me no meat: I was thirsty, and ye gave me no drink: I was a stranger, and ye took me not in: naked, and ye clothed me not: sick, and in prison, and ye visited me not. Then shall they also answer him, saying, Lord, when saw we thee an hungred, or athirst, or a stranger, or naked, or sick, or in prison, and did not minister unto thee? Then shall he answer them, saying, Verily I say unto you, Inasmuch as ye did it not to one of the least of these, ye did it not to me. And these shall go away into everlasting punishment: but the righteous into life eternal
While Jesus is referred to as the Good Shepherd, He warns us about another shepherd that will come. A shepherd that all pastors and heads of households should be mindful to watch for. This shepherd who is to come will not watch his flock, nor will he protect them. This antichrist will come as a shepherd, but instead become the wolf. We read in Zechariah 11:15-17:
And the LORD said unto me, Take unto thee yet the instruments of a foolish shepherd. For, lo, I will raise up a shepherd in the land, which shall not visit those that be cut off, neither shall seek the young one, nor heal that that is broken, nor feed that that standeth still: but he shall eat the flesh of the fat, and tear their claws in pieces. Woe to the idol shepherd that leaveth the flock! the sword shall be upon his arm, and upon his right eye: his arm shall be clean dried up, and his right eye shall be utterly darkened.
We must understand that the times in which we live do not allow us the time to work up to being saved. For those of you who think that as soon as you get yourself together, you'll get saved, you are falling for an old trick of Satan. There is no work or deed that you can do to earn salvation. That gift was given to you upon the death and resurrection of Jesus Christ, the Lamb of God. But you must make a decision now, before it is too late. Jesus is standing at the door of your heart and is knocking. It is up to you to open the door and let him in. Romans 13:11-14 tells us:
And that, knowing the time, that now it is high time to awake out of sleep: for now is our salvation nearer than when we believed. The night is far spent, the day is at hand: let us therefore cast off the works of darkness, and let us put on the armour of light. Let us walk honestly, as in the day; not in rioting and drunkenness, not in chambering and wantonness, not in strife and envying. But put ye on the Lord Jesus Christ, and make not provision for the flesh, to fulfil the lusts thereof.
As we look back on these verses and stare into the mirror of time, I would ask that each of you reflect upon these words. It is not what you own or who you know that dictates who you are as a man. But yet, we are called as Christians to carry ourselves a certain way, and to put ourselves in communication with those of like interests and beliefs. For in that final moment when we stand alone before God, and our actions, deeds and thoughts are tried in the fire and all that is not of God is burned away, what will remain will be truly what manner of man we are in the eyes of God.
God depicts the character of man as that of sheep, easy to lead, passive and frail in what it will digest or take in. These characteristics are the way man should be in his consumption of the word, as opposed to his consumption of worldly teachings. We read in Matthew 10:16-26:
Behold, I send you forth as sheep in the midst of wolves: be ye therefore wise as serpents, and harmless as doves. But beware of men: for they will deliver you up to the councils, and they will scourge you in their synagogues; And ye shall be brought before governors and kings for my sake, for a testimony against them and the Gentiles. But when they deliver you up, take no thought how or what ye shall speak: for it shall be given you in that same hour what ye shall speak. For it is not ye that speak, but the Spirit of your Father which speaketh in you. And the brother shall deliver up the brother to death, and the father the child: and the children shall rise up against their parents, and cause them to be put to death. And ye shall be hated of all men for my name's sake: but he that endureth to the end shall be saved. But when they persecute you in this city, flee ye into another: for verily I say unto you, Ye shall not have gone over the cities of Israel, till the Son of man be come. The disciple is not above his master, nor the servant above his lord. It is enough for the disciple that he be as his master, and the servant as his lord. If they have called the master of the house Beelzebub, how much more shall they call them of his household? Fear them not therefore: for there is nothing covered, that shall not be revealed; and hid, that shall not be known.
The second characteristic God depicts man's spirit as being akin to is that of the goat. The goat is unruly, stubborn and will eat and digest anything put before it, even if it causes its own death. The goat is lead by its belly and will follow any sound. It is, therefore, easy food for wolves who lead them off one by one to slaughter. For unlike sheep who listen for the voice of their master and won't stray out of voice range, the goat only hears the sound of his empty belly and pays little attention to the warning signs around. Having the character of goats, some are not discerning of spiritual danger and only follow their desires and bellies. Goats leave themselves open for the wolves who prey on God's flock. Much like the Pharisees and Sadducees of Jesus' time, the goats do not hear nor discern the voice of the Good Shepherd. For in their desire to satisfy their flesh, they focus only on the lip service they pay to one another. They don't know God because they don't know what manner man they are. They walk not by faith, but by the sight of their desires and the lusts of their bellies. And much like the goats, men who follow after their desires and bellies are often caught while in the act of serving those unnatural desires. They justify what they have become by forming the image of the Good Shepherd to their own likeness and character. Their idea of God is one who allows anything and forgives everything so that anything goes.
Finding themselves cut off and lost from their creator, the goats simply create a passive image of God and there they worship just as the Jewish tribes did while Moses was away seeking God's face. And so the goats of today do. We read in John 10:1-29:
Verily, verily, I say unto you, He that entereth not by the door into the sheepfold, but climbeth up some other way, the same is a thief and a robber. But he that entereth in by the door is the shepherd of the sheep. To him the porter openeth; and the sheep hear his voice: and he calleth his own sheep by name, and leadeth them out. And when he putteth forth his own sheep, he goeth before them, and the sheep follow him: for they know his voice. And a stranger will they not follow, but will flee from him: for they know not the voice of strangers. This parable spake Jesus unto them: but they understood not what things they were which he spake unto them. Then said Jesus unto them again, Verily, verily, I say unto you, I am the door of the sheep. All that ever came before me are thieves and robbers: but the sheep did not hear them. I am the door: by me if any man enter in, he shall be saved, and shall go in and out, and find pasture. The thief cometh not, but for to steal, and to kill, and to destroy: I am come that they might have life, and that they might have it more abundantly. I am the good shepherd: the good shepherd giveth his life for the sheep. But he that is an hireling, and not the shepherd, whose own the sheep are not, seeth the wolf coming, and leaveth the sheep, and fleeth: and the wolf catcheth them, and scattereth the sheep. The hireling fleeth, because he is an hireling, and careth not for the sheep. I am the good shepherd, and know my sheep, and am known of mine. As the Father knoweth me, even so know I the Father: and I lay down my life for the sheep. And other sheep I have, which are not of this fold: them also I must bring, and they shall hear my voice; and there shall be one fold, and one shepherd. Therefore doth my Father love me, because I lay down my life, that I might take it again. No man taketh it from me, but I lay it down of myself. I have power to lay it down, and I have power to take it again. This commandment have I received of my Father. There was a division therefore again among the Jews for these sayings. And many of them said, He hath a devil, and is mad; why hear ye him? Others said, These are not the words of him that hath a devil. Can a devil open the eyes of the blind? And it was at Jerusalem the feast of the dedication, and it was winter. And Jesus walked in the temple in Solomon's porch. Then came the Jews round about him, and said unto him, How long dost thou make us to doubt? If thou be the Christ, tell us plainly. Jesus answered them, I told you, and ye believed not: the works that I do in my Father's name, they bear witness of me. But ye believe not, because ye are not of my sheep, as I said unto you. My sheep hear my voice, and I know them, and they follow me: And I give unto them eternal life; and they shall never perish, neither shall any man pluck them out of my hand. My Father, which gave them me, is greater than all; and no man is able to pluck them out of my Father's hand.
Do you hear God's voice and live as His sheep or do you walk away forgetting what manner of man you are? Sheep or Goat? Serving your own belly like the goats who only hear themselves, do you play lip service to the bible, or are you a true sheep of the flock and have no doubt in your soul that you know what manner of man you are? We read in Proverbs 14:12:
There is a way which seemeth right unto a man, but the end thereof are the ways of death.
As sheep, we seek the guidance of our shepherd for the right path to follow. But goats follow their own desires and bellies to a path that leads to death! The path you choose to follow is a strong indication of what manner of man you are. In the book of Ephesians 4:8-24 we read:
Wherefore he saith, When he ascended up on high, he led captivity captive, and gave gifts unto men. (Now that he ascended, what is it but that he also descended first into the lower parts of the earth? He that descended is the same also that ascended up far above all heavens, that he might fill all things.) And he gave some, apostles; and some, prophets; and some, evangelists; and some, pastors and teachers; For the perfecting of the saints, for the work of the ministry, for the edifying of the body of Christ: Till we all come in the unity of the faith, and of the knowledge of the Son of God, unto a perfect man, unto the measure of the stature of the fullness of Christ: That we henceforth be no more children, tossed to and fro, and carried about with every wind of doctrine, by the sleight of men, and cunning craftiness, whereby they lie in wait to deceive; But speaking the truth in love, may grow up into him in all things, which is the head, even Christ: From whom the whole body fitly joined together and compacted by that which every joint supplieth, according to the effectual working in the measure of every part, maketh increase of the body unto the edifying of itself in love. This I say therefore, and testify in the Lord, that ye henceforth walk not as other Gentiles walk, in the vanity of their mind, Having the understanding darkened, being alienated from the life of God through the ignorance that is in them, because of the blindness of their heart: Who being past feeling have given themselves over unto lasciviousness, to work all uncleanness with greediness. But ye have not so learned Christ; If so be that ye have heard him, and have been taught by him, as the truth is in Jesus: That ye put off concerning the former conversation the old man, which is corrupt according to the deceitful lusts; And be renewed in the spirit of your mind; And that ye put on the new man, which after God is created in righteousness and true holiness.
Our Good Shepherd Jesus Christ draws a further distinction between the sheep and the goats by illustrating some of the attributes, callings and ways that separate the sheep of God's flock from the goats. We see that it is not only what we ingest that separates us from the goats, who will graze upon anything that will fill the emptiness of their bellies; but also our reactions to others that are very telling when it comes to what manner of man we are. Moreover, it is what we do after we become born again that separates us from those, that by their self-willed desires follow any shepherd and digest any substance of beliefs. They'll do so as long as it allows them to continue to be self-serving and place all their complaints, wrongs and ills on God, whom they shun because they chose their own way over His way to salvation.
We are warned by God to not only be hearers of His word but doers, and to turn away from disobedience such as unruly goats in the book of Ephesians 5:1-20:
Be ye therefore followers of God, as dear children; And walk in love, as Christ also hath loved us, and hath given himself for us an offering and a sacrifice to God for a sweetsmelling savour. But fornication, and all uncleanness, or covetousness, let it not be once named among you, as becometh saints; Neither filthiness, nor foolish talking, nor jesting, which are not convenient: but rather giving of thanks. For this ye know, that no whoremonger, nor unclean person, nor covetous man, who is an idolater, hath any inheritance in the kingdom of Christ and of God. Let no man deceive you with vain words: for because of these things cometh the wrath of God upon the children of disobedience. Be not ye therefore partakers with them. For ye were sometimes darkness, but now are ye light in the Lord: walk as children of light: righteousness and truth;) Proving what is acceptable unto the Lord. And have no fellowship with the unfruitful works of darkness, but rather reprove them. For it is a shame even to speak of those things which are done of them in secret. But all things that are reproved are made manifest by the light: for whatsoever doth make manifest is light. Wherefore he saith, Awake thou that sleepest, and arise from the dead, and Christ shall give thee light. See then that ye walk circumspectly, not as fools, but as wise, Redeeming the time, because the days are evil. Wherefore be ye not unwise, but understanding what the will of the Lord is. And be not drunk with wine, wherein is excess; but be filled with the Spirit; Speaking to yourselves in psalms and hymns and spiritual songs, singing and making melody in your heart to the Lord; Giving thanks always for all things unto God and the Father in the name of our Lord Jesus Christ;
God further gives an example of how his sheep should live in the book of Galatians 5:16-26:
This I say then, Walk in the Spirit, and ye shall not fulfil the lust of the flesh. For the flesh lusteth against the Spirit, and the Spirit against the flesh: and these are contrary the one to the other: so that ye cannot do the things that ye would. But if ye be led of the Spirit, ye are not under the law. Now the works of the flesh are manifest, which are these; Adultery, fornication, uncleanness, lasciviousness, Idolatry, witchcraft, hatred, variance, emulations, wrath, strife, seditions, heresies, Envyings, murders, drunkenness, revellings, and such like: of the which I tell you before, as I have also told you in time past, that they which do such things shall not inherit the kingdom of God. But the fruit of the Spirit is love, joy, peace, longsuffering, gentleness, goodness, faith, Meekness, temperance: against such there is no law. And they that are Christ's have crucified the flesh with the affections and lusts. If we live in the Spirit, let us also walk in the Spirit. Let us not be desirous of vain glory, provoking one another, envying one another.
We are called to be more than goats, who at every turn challenge the shepherd, follow other shepherds or even other goats. Sheep graze off the lush grass of the valley with comfort, and in their reassurance that the shepherd is nearby keeping a vigilant watch over His flock, the sheep rarely look up!
Goats, on the other hand, often are interrupted by sounds and movements from other goats and sometimes wolves who also seek the highlands to overlook the flocks. When danger comes sheep seek the Good Shepherd for safety, while goats run back to the hills, scattering towards the wolves laying in wait, much like the Christian seeking the world when the storms of life come. Goats run to the rocks because they find a false sense of security given by the inhospitable terrain. Just as Christians who are unskilled in the word run back to the world for answers and a quick fix. Instead of reading the word of God they find other people, who like them, create a new religion that allows them the comfort of not facing the mirror. They never see what manner of man they could be.
Jesus Christ, our Good Shepherd, knew in His infinite wisdom that He could not remain with the growing flock, so He left His written word, the holy bible. And for His meek sheep, Jesus provided armor and knowledge to protect them from the wolves in sheep's clothing and to warn them about settling for the lifestyle of goats. Jesus Christ inspired mankind to seek their creator, take on the character of Jesus Christ, look into the mirror and see the new creation. We see Jesus Christ in us, and by doing so, we see and know what manner of man we are. As sheep we are vulnerable, but we find strength in Jesus Christ and Ephesians 6:5-24:
Servants, be obedient to them that are your masters according to the flesh, with fear and trembling, in singleness of your heart, as unto Christ; Not with eyeservice, as menpleasers; but as the servants of Christ, doing the will of God from the heart; With good will doing service, as to the Lord, and not to men: Knowing that whatsoever good thing any man doeth, the same shall he receive of the Lord, whether he be bond or free. And, ye masters, do the same things unto them, forbearing threatening: knowing that your Master also is in heaven; neither is there respect of persons with him. Finally, my brethren, be strong in the Lord, and in the power of his might. Put on the whole armour of God, that ye may be able to stand against the wiles of the devil. For we wrestle not against flesh and blood, but against principalities, against powers, against the rulers of the darkness of this world, against spiritual wickedness in high places. Wherefore take unto you the whole armour of God, that ye may be able to withstand in the evil day, and having done all, to stand. Stand therefore, having your loins girt about with truth, and having on the breastplate of righteousness; And your feet shod with the preparation of the gospel of peace; Above all, taking the shield of faith, wherewith ye shall be able to quench all the fiery darts of the wicked. And take the helmet of salvation, and the sword of the Spirit, which is the word of God: Praying always with all prayer and supplication in the Spirit, and watching thereunto with all perseverance and supplication for all saints; And for me, that utterance may be given unto me, that I may open my mouth boldly, to make known the mystery of the gospel, For which I am an ambassador in bonds: that therein I may speak boldly, as I ought to speak. But that ye also may know my affairs, and how I do, Tychicus, a beloved brother and faithful minister in the Lord, shall make known to you all things: Whom I have sent unto you for the same purpose, that ye might know our affairs, and that he might comfort your hearts. Peace be to the brethren, and love with faith, from God the Father and the Lord Jesus Christ. Grace be with all them that love our Lord Jesus Christ in sincerity. Amen.
You have just read, "What Manner of Man Are You?" found in Dr. Nunez's exciting book And Enoch Also Prophesied: The Epiphany.
If you would like to read more, click the book below .